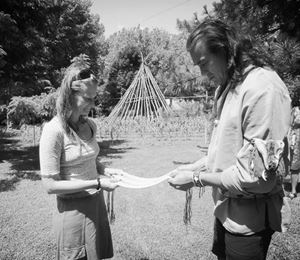 Marie-Claude Lacroix
Founding Member

It is the quest for meaning that has guided my life that has led me to collaborate with the Original People of this territory.
After completing a B.A. in psychology from Montreal University (1999) and traveling for more than 10 years as an artist with Cirque du Soleil, I returned to Quebec to devote myself to researching my own origins.
The ancestral knowledge I discovered amid traditionalists still connected to their identity, dating back thousands of years, revealed my life's mission.
Create bridges so that everyone can experience this sacred anchor with Creation, which has been sacrificed for a society that has lost its meaning.
It is the urgency to transform our world for the better that animated me to participate in the creation of the Great Peace Organization.
"We have the opportunity together to restore peace and protect our Mother Earth in the alliance with these generous people who welcomed and saved our ancestors from certain death.

It is time to honor this."